Plant Based World Expo Europe Doubles in Size as Industry Booms
Europe's only dedicated plant-based trade event, Plant Based World Expo Europe, returned bigger and better last week at London Olympia with twice as much floorspace as the previous year, demonstrating the huge growth and innovation that has taken place in the plant-based food sector in 2022.   
The show also welcomed a 94% increase in attendees compared to 2021, with visitors from across the food service, retail, distribution, and investment sectors, including senior decision-makers from the likes of Tesco, M&S, ALDI, Morrisons, Waitrose, Ocado, Sodexo, ISS, Bidfood, Sysco, Aramark, LEON, Papa Johns Pizza, Burger King, The Restaurant Group and Greggs to name a few.  
Future eating habits and new opportunities were at the heart of the show as the industry came together to reflect on the progress of the plant-based sector and explore what the next generation of plant-based eating looks like, with the latest innovations available on the show floor to taste.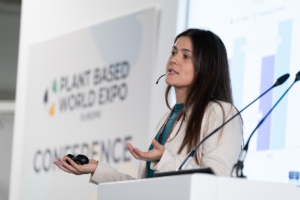 Leaders from some of the biggest food brands in the world, including Deliveroo, Wagamama, Sainsbury's, and Quorn, offered their insight on how plant-based ingredients are transforming consumers' view of food and presenting significant business growth opportunities during the conference programme. 
With a unique take on how businesses can convert the masses, Emily Weston, Head of Brand Development at Wagamama, joined the 'Persuading consumers to try plant-based' session: "Launching vegan dishes and menus isn't just about appeasing vegans. We want more people to try vegan foods and when we introduce new plant-based dishes to our menus we see participation spike."  
The Culinary Theatre was also a hive of activity with live cooking demonstrations using some of the most innovative plant-based products available. Ten sessions took place across two days, including an interactive demonstration from BOSH! which offered visitors an exclusive preview of its new sauces to make an authentic and delicious lasagne. Unfished also took part to demonstrate the progress in the fish-less category by creating tuna rolls, whilst Redefine Meat showcased how plant-based foods can be incorporated in fine dining using its tenderloin and new premium cuts.   
Alongside the interactive show content, over 150 exhibitors from around the world showcased the products capturing the attention of a wider pool of consumers to bring plant-based eating into the mainstream. The show floor included a broad range of brands, from household names to innovative new start-ups including Verdino, Moving Mountains, Mock, Meatless Farm, Redefine Meat, Thanks Plants, The Raging Pig Company, unMeat, Wicked Kitchen, Quorn, Tiba Tempeh, MozzaRisella, and Shicken.   
Hosted Buyers P
rogramme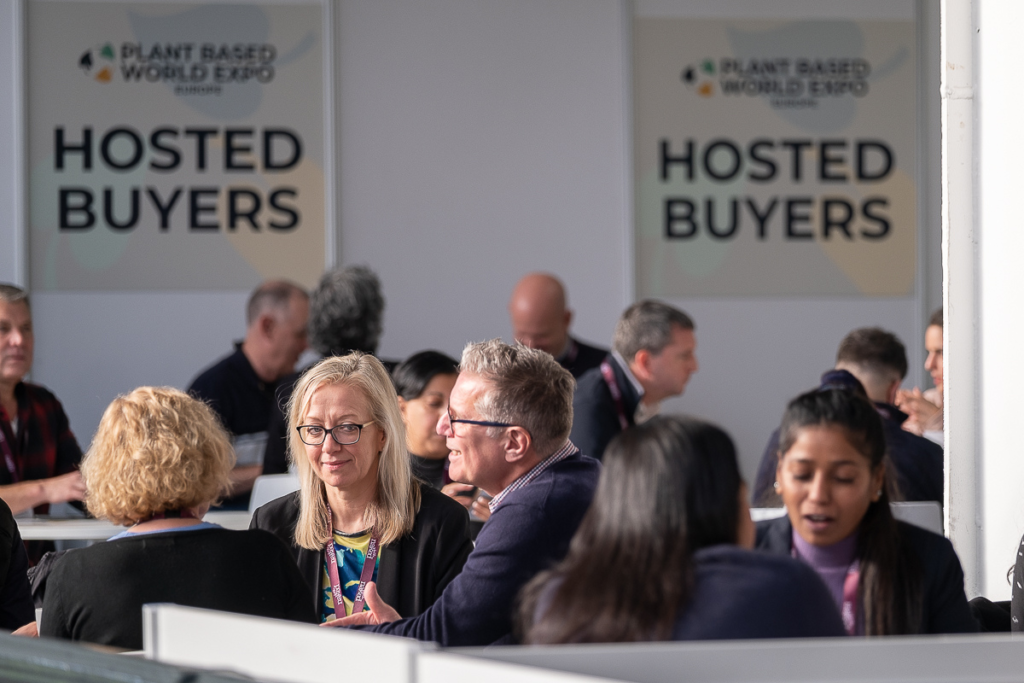 To give buyers exclusive access to exhibitors and help participating brands forge new connections with decision makers also hosted a buyers programme. Over 400 meetings took place across two days, helping the industry to form new business relationships and bring more plant-based foods to shelves and menus.  
One buyer who enjoyed the show was Heerum Flearly, Procurement Consultant at Tickeat Ltd, who said: "The hosted buyer programme has been really beneficial. The show has been so busy, and I've been surprised by the breadth on offer. Plant Based World Expo has created a very strong plant-based community and I definitely want to be part of it next year." 
Having experienced exponential growth in its first two years, Plant Based World Expo Europe has announced that the show will take place at the ExCeL, London's biggest venue, for 2023. The event began in London's Business Design Centre in 2021, before moving to London Olympia for this year's edition.  
Jonathan Morley, Managing Director of Plant Based World Expo Europe, concludes: "We are thrilled that support for our show has been so strong this year, so much so that Plant Based World Expo is moving to an even bigger venue in 2023. We are proud to provide the perfect platform to facilitate collaboration across the industry to realise the business opportunities that further integrating plant-based foods into the mainstream represents, all whilst improving both our health and the environment. We can't wait for next year!"  
About Plant Based World Expo Europe 
Plant Based World Expo is the only 100% plant-based event for trade professionals – retailers, foodservice, hospitality, distributors, manufacturers, and investors. This unique show combines a world-class conference with an international exhibition of the most innovative products on the market, as well as high-level networking and product tasting opportunities.  
The mission of Plant Based World Expo is simple: connecting and empowering businesses to successfully develop, source and distribute plant-based products.  Plant Based World Expo Europe is arriving at ExCeL London on 15th and 16th November 2023, be the first to hear when registration opens by joining the mailing list: https://mailchi.mp/jdevents/subscribe-to-plant-based-world or visit https://www.plantbasedworldeurope.com/ 
---
Plant Based World Pulse