What's Trending in the Plant Based World?
Plant Based World Expo Europe was held in the National Hall, Olympia on 30th November – 1st December 2022. It was a bigger venue than the previous year and attracted nearly double the number of visitors. Around 180 exhibitors presented their plant-based offerings, contributing generous samples, cookery demonstrations and talks. This strictly B2B event was a chance for innovators, producers, and services to meet investors, distributers and buyers from supermarkets and foodservice. The hall was buzzing with demonstrations and negotiations. Some of this year's stallholders will likely be next year's household names. Plant-based bacon makers La Vie, new to the UK market last year, now returning as established supermarket suppliers. It has since been reported that German cheesemaker Simply V has announced will be launching five of its almond cheeses in the UK next year. For this reason, the expo is a great place to spot trends and get a hint of what might soon be available. Here are some developments that were trending at Plant Based World.  
Sliceable seafood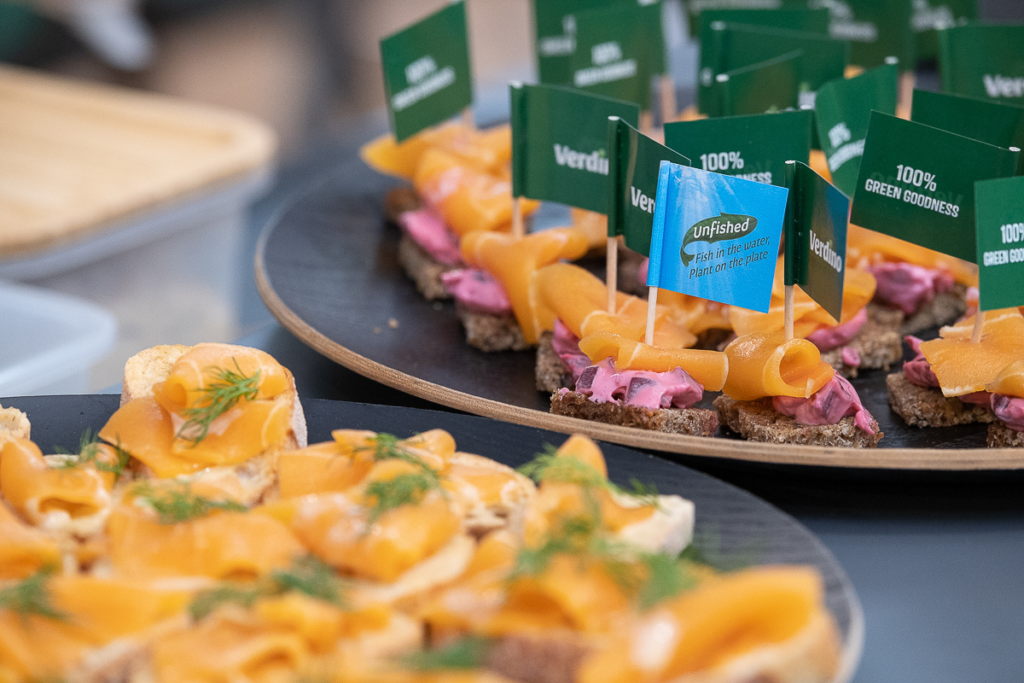 There was some very tasty plant-based fish on display including some delicious, breaded fillets from French vegan company Kokiriki and Asian brand Omni. A potential game-changer is a newcomer to the space – Romanian company Verdino who now have a presence in the UK. Their Unfished range includes sliceable and diceable faux salmon and tuna, and they have mastered a realistic fishy favour. The products are likely to be snapped up by sushi and sashimi makers wanting to attract plant-based customers. These establishments will also love Jens Moller's three varieties of seaweed caviar.  
Blended milks
Soya, oat, rice, chickpeas: why stick to just one plant-protein when you can mix them up? Combining key ingredients means the drink can be optimised for taste, nutrition, and price. There were several blended milks to try at this year's expo including: 
Naturli's Do Not Call Me M-lk. Claimed by some to be the creamiest plant-milk, it is a hybrid of soy, oat, rice, and almond. The Danish brand is available in the UK from QuickVit and, given the success of the brands butters, is likely to be available more widely in the not-too-distant future.  
Yofi is a French organic vegan start-up. The key ingredient here is chickpea which gives high nutrition and a creamy texture. The two choices are oat and chickpea, and rice and chickpea. We can confirm that there is no hint of chickpea in the flavour. Yofi will be available to buy from their own website soon.  
Spanish brand Ecomil is also mixing it up, with chia and almond, coconut and almond, and spelt rice, oat, and hazelnut on offer. This is an addition to some unusual plant milks such as quinoa, sesame, and tiger nut. Some of their single plant milks are available in UK health shops.  
AMC Natural Drinks are blending plant milk in a different way – with fruit. The Spanish fruit distributer has diversified its range to and invested in R&D to produce bioactive drinks with gut-health-conscious consumers in mind. We can confirm that the mango, coconut milk and turmeric gut health shot we sampled at the expo was delicious. The company has sites across 50 countries including the UK and provides products to supermarkets, wholesalers, and foodservice.  
Artisan cheeses
Plant-based cheese has come a long way in the last couple of years. We are surely past the days when people complained they could never give up dairy because of cheese. These Mediterranean gems prove that that dairy-free no longer means missing out on flavour and nutrition.  
Mozzarisella magics a dairy-free, soy-free, gluten-free, allergen-free alternative to cheese from brown rice. The product on display, a giant round parmesan replacement had the tangy taste and crumbly texture you would expect. A selection is already available in the UK via Vegetarian Express and Wholefoods.  
 Les Nouveaux Affineurs have adapted traditional French cheesemaking techniques including ripening and fermentation to make something that could easily be mistaken for a rich camembert. Produced in a new state of the art factory in Paris the products are available all over France we hope to see these gems on our side of the Channel soon.  
Whole cuts of meat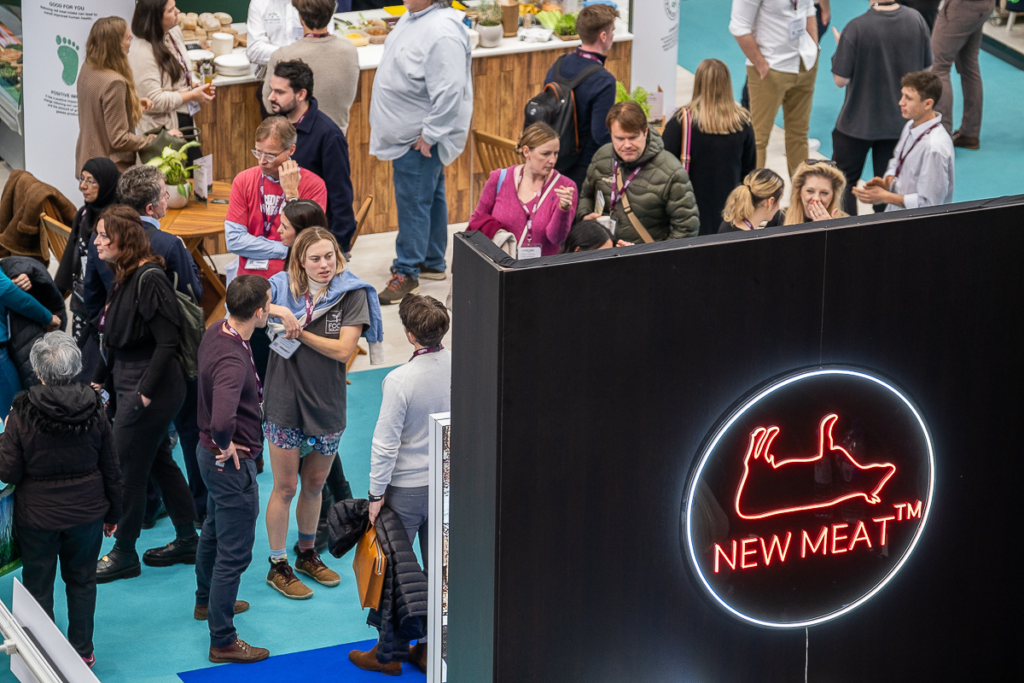 While burgers, meatballs and sausages have become meatier in the last year, the new holy grail is un-minced cuts that wouldn't seem out of place in a butcher's shop.  
Redefine Meat has created New Meat – juicy, chewy plant-based pieces that realistically mimic the flavour, texture and experience of eating animal flesh. The method is understandably a guarded secret but involves 3D printing to create a carbon copy of muscle mass. Ingredients include soy, pea protein, chickpeas and beetroot, with the tenderloin and lamb flank being the most impressive shape and feel. The advertising is aimed as much at hardened meatheads as vegans. It is available in high-end eateries including Selfridges in the UK, and in Germany, the Netherlands, Austria, France and Israel.  
Mock is another premium plant-based meat brand. Created exclusively for foodservice the brand is one of the few to offer vegan lamb pieces. The samples were moist and chewy tapping into core memories of late-night kebabs. The protein comes from soy, mushroom stem, and wheat gluten. It is available from Vegetarian Express in the UK.  
Further afield 
Plant Based World Expo is an international affair, and we spotted several companies who had travelled some distance to allow their products greater visibility in the UK. These include event sponsors, V2, Australia's number 1 plant-based meat    
Brazilian plant-based advocates have had a boost with the election of vegetarian Luiz Ignacio Lula da Silva. The president-elect has vowed to put environmental conservation high on the agenda. Two Brazilian plant-based companies were represented at the Expo: Future Farm, now distributed in 30 countries including the UK, and Grupo Planta a restaurant chain in Brazil and white label producer across Latin America. 
Nilky is Turkey's first vegan drinks brand. The start-up was founded by two idealistic entrepreneurs determined to protect the planet from ecological damage. The company produces almond, oat, hazelnut, and coconut milks which it sells in Turkish supermarkets and are hoping for interest from UK distributers.  
Vezlay is a manufacturer of soya meat products in India. It was one of the first in the country to position soya as a meat alternative for vegetarians. On display were their range of ambient ready-to-eat meat-substitutes such as their moist and tasty soya chikka.  
Fungi Fat
For alt-meat producers looking for a healthy way to make their food juicier and more succulent Scelta Vegout could be the solution. A collaboration between Yorkshire-based VegOut Fungi and global mushroom producer Scelta Mushrooms, the fat replacement has no trans fats and is lower in calories that actual fat. IT will likely be a welcome addition to sausages, burgers and other faux meats.  
---
Alice Grahame
Alice Grahame is a freelance writer based in London. She's worked for the BBC, Guardian and various NGOs. She enjoys walking, allotment gardening and trying new plant-based dishes.