The Rise of Alt Seafood and How It Is Widening It's Net
While the burgeoning discussion surrounds the (supposedly ill-fated) future of the plant-based food sector, one niche remains demonstrably buoyant: alternative seafood.
Promoted as cruelty-free, environmentally superior, and healthier options than traditional seafood, plant-based alternatives have grown in popularity. Moreover, as their potential in the market comes into sharp focus, they are becoming more interesting to entrepreneurs and investors alike. As a result, more startups than ever before are entering the sector, with significant financial backing also following.
Consumer Awareness
One of the main operational motivations cited by alternative seafood manufacturers is their desire to contribute meaningfully to a reduction in commercial fishing, something that has become a major consumer consideration in recent years.
Experts have debated the issue of overfishing for years. Back in 2019 National Geographic revealed that, despite the seas "running out of fish," large countries were failing to make good on their promises to eradicate government fishing subsidies. In fact, it was discovered that in some cases, financial support had increased, thereby encouraging overfishing to continue.
The debate simmered for another two years before commercial fishing and its environmental impact was thrust into the mainstream spotlight with the March 2021 release of Seaspiracy.
A documentary created specifically for Netflix, by British filmmaker Ali Tabrizi, Seaspiracy shone a light on the true impact of commercial fishing. As a result of the shocking content, the film quickly ranked in the Top 10 most-watched titles on the streaming platform and soon, the media reported on its wider impact.
Less than one month after the film's release, Metro reported that almost half (42.4%) of those who viewed it considered removing fish from their diet. However, plant-based protein manufacturers spotted an opportunity to replace instead of removing seafood from diets and so, a fast-growing sub-niche of the meat-free market began to gather pace.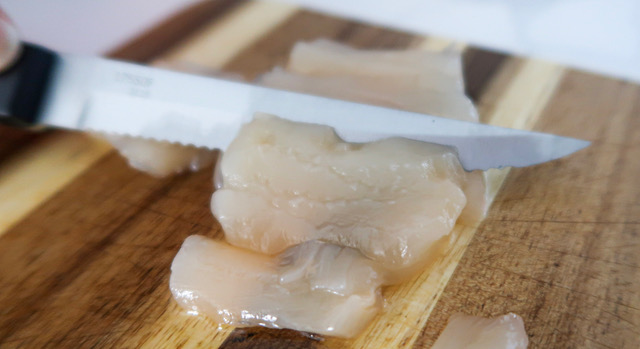 The Many Faces of Alt-Seafood
Seeking to offer consumers the seafood taste and mouthfeel that they enjoy, minus animal deaths and environmental impact, plant-based manufacturers are seemingly experimenting with a variety of production techniques and ingredient combinations.
Current Foods is one such company, operating out of the US to fulfill its mission of "pioneering the transition to a sustainable food system, starting with the ocean." It creates sushi-grade fish-free tuna and salmon, using surprising ingredients that include bamboo, radish, and algae. The result, it claims, is a hyper-realistic seafood alternative suitable for all diners.
Over in Chile, 'unicorn' startup NotCo is taking a tech-forward approach to removing seafood from the food system. The manufacturer is considered a pioneer in the use of AI to create food products that look, feel, and taste identical to meat, using only plant-based ingredients. Its in-house AI technology, dubbed 'Giuseppe' analyzes existing foods down to a molecular level, before developing a recipe to recreate them without the use of any animal products. Having already mastered chicken, milk, and burgers, NotCo has revealed plans to take on salmon and tuna in the near future.
Precision fermentation is one of the most exciting manufacturing methodologies. Offering the potential for significant sustainability improvements, companies effectively 'grow' their products in commercial vats, using microbial cells as hosts. The resulting seafood is considered 'clean' (thanks to the highly regulated conditions), scalable, and comparable to conventional items. San Francisco-based Aqua Cultured appears to be one of the front-runners of the sector, having showcased whole muscle-cut seafood analogues back in 2021.
Though not plant-based, it should be noted that lab-grown seafood is also witnessing significant progress. A number of cultivated seafood alternatives have been developed, notably in South Korea, and though regulatory approval has not been granted for the products to be sold anywhere yet, investors note the potential of the sector. Just this month, CellMeat, a South Korean startup that showcased cultivated shrimp, secured $13 million in a Series A fundraising round to bring its products to market.
Startups are Growing in Number
Regardless of production methodologies, one fact remains: alt-seafood startups are springing up in their droves. The Good Food Institute's 2021 Alternative Seafood Industry Update revealed just how impressive the upward trajectory of the sector is.
In 2021, 120 companies globally were producing fish-free products. This is 21 more than in 2020, with plant-based and cultivated enterprises pulling ahead as the most popular incarnations. Moreover, more countries than ever before are participating in the sector, with Austria, Thailand, and South Africa, amongst others, gaining their first domestic alt-seafood companies.
Growth is being driven by one thing: consumer demand. With more knowledge surrounding the unethical and environmentally damaging practices associated with commercial fishing, shoppers are looking to satisfy their taste buds and consciences in new ways. In the US alone, retail plant-based seafood sales grew by 42% between 2019 and 202. Additionally, a 25% increase in the number of plant-based seafood products being sold through retail outlets was also confirmed.
Arguably the most impressive stats, however, are those relating to investment in the market. Between 2020 and 2021, invested capital in alternative seafood grew by a staggering 92% to reach $175 million, up from $91 million. This represented 24 new investment deals and 108 new-to-the-market investors in 2021. Such trends are not expected to slow.
In 2021, the alternative seafood market was valued at $42.1 million. It is predicted to grow at a compound annual growth rate of 42.3% until it reaches $1.3 billion, by 2031.
"The growing awareness regarding the health benefits of consuming plant-based protein, the welfare of animals, and rising concerns over the environment and sustainability are the key factors that are boosting the growth of the market across the globe," a report by Allied Market Research notes.
Buy-Outs That Point to Alt-Seafood Supremacy
It's not just those who are new to the alternative protein scene that are recognizing the opportunity that alternative seafood presents. A number of high-profile acquisitions in recent years prove that the potential for alt-seafood success is no longer a secret, and everybody wants a piece of the action.
Most notably, UK-founded plant-based food brand Wicked Kitchen has bought two alternative seafood operations in less than a year. It first acquired Good Catch in September 2022 and most recently bought Current Foods. Together, the two brands will allow Wicked Kitchen to infiltrate retail and foodservice channels respectively.
Wicked Kitchen already enjoys global success with its consumer-facing plant-based products but is doubling down on its belief that alternative seafood represents a growth sector.
Elsewhere, UPSIDE Foods, a US-based cultivated meat operation, bought Cultured Decadence, a lab-grown seafood enterprise, in January 2022.
"Seafood has a rich and delicious culinary tradition that makes it a favorite across the globe. Cultivated seafood also has a tremendous potential to benefit the world," Dr. Uma Valeti, Founder and CEO of UPSIDE Foods, said at the time of the purchase. "Cultured Decadence's technology is incredibly promising, and their team is filled with passionate, smart individuals who want to make our favorite food a force for good."
---
Amy Buxton