La Fauxmagerie: Taking Artisanal Nut Cheese Mainstream
La Fauxmagerie, the plant-based cheesemonger has grown from pop-up to supermarket supplier in less than four years. The business began as a unit in Brixton Market selling artisanal nut-based cheese. It now makes its own products in its state-of-the-art factory and sells in Waitrose. We spoke to co-founder Charlotte Stevens about the company's meteoric rise.  
Market Gap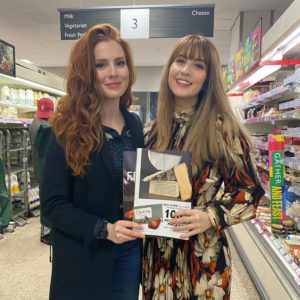 The story of La Fauxmagerie began in 2017 when founders, Welsh sisters Charlotte Stevens (vegetarian and lactose intolerant) and Rachel Stevens (vegan) couldn't find a non-dairy cheese they really liked. They felt that many of the cheeses in supermarkets were too oily and tasted of coconut. The nut and soy-based artisanal brands with stalls at Borough Market tasted good, but were too expensive. They were surprised to find that there was not a single vegan cheese shop in the whole of the UK.  
Charlotte Stevens had been wanting to start her own business for a while and decided a plant-based cheese shop was a great choice for an ethical, purpose-driven enterprise. She explains: "I worked in tech, where you would need investment of millions to start a business. It seemed impossible to start with nothing. But it was something I personally cared about, a mission, an opportunity, a gap in the market and a service that I personally would benefit from. I invested my savings of £10,000 into opening a pop-up shop in Brixton. That is how we beta-tested the market, to see if people cared about vegan cheese. And it turned out they did. We got press coverage and loads of customers, with people queuing out the door, and it grew from there."  
Curated Offering
The siblings researched around 30 suppliers and chose their favourite 10 to sell. They wanted to stock only the best, to show that vegan cheese can be delicious. Charlotte Stevens adds: "We sourced products from small batch suppliers from across the UK. We wanted to support the producers and make plant-based cheese more accessible and affordable. The goal was to make an easier customer journey and create a space where you could find a curated selection."  
 Due to an huge amount of publicity, including some unwelcome attention from UK Dairy, the pop-up was very popular. Many customers travelled some distance, suggesting an online shop would do well, so online sales were introduced. The company outgrew its Brixton shop and moved to bigger premises in Shoreditch, which now also houses their Cheese Cellar where they host vegan cheese and wine evenings.  
Own Brand
The sisters then took the bold and expensive step of making their own products, to sell alongside existing artisanal brands. They began manufacturing in spring 2021, producing mould ripened blues, camembert, and brie. Charlotte Stevens says this was a dramatic learning curve: "Cheese is difficult to make because it's prone to contamination. There's so much that can go wrong during the ageing process. If you've got 1% too much humidity in the air, you risk batch failure. I had to learn about climate control, and we brought in some hydroponic technology to help with that. We spent 2021 trying to scale our batches and improve consistency. By 2022 we nailed it, and now make large batches with consistent results."  
Scaling Up
La Fauxmagerie began another exciting chapter in 2022 when the Waitrose innovation team got in touch. Products are now available in over twenty Waitrose stores. Charlotte Stevens says the collaboration is a good match: "They are known for working with small batch suppliers and they are very innovative. Their consumer base is less price sensitive than other supermarkets and they are a bit bolder with their products."  
The company did not reach out for finance until the Waitrose partnership required a big scaling up of manufacturing. To reduce production time from 12 hours to two they needed a 500-litre hydraulic kettle, costing £60,000. Investment was also needed for warehousing. Charlotte Stevens says she was careful to wait for the right time to work with investors: "We had some investors approach us in 2019 when we first opened, but we weren't ready. We didn't know what our roadmap was going to look like. For our first year we had very little data to evaluate. We wanted to be driven by what customers wanted not what an investor wanted. A year later we knew what we wanted: a manufacturing division, our own products, an online shop, and a sit-down experience. I think we made the right call to delay pitching to investors until the end of 2021 when we were a completely different business." 
Charlotte Stevens's job is very different today compared to when the company started: "At first it was just me and my sister running the shop and packing online orders. I built the website, did the design work including packaging and labels, social media, photos on my iPhone. In 2019 we hired part time staff and by 2020 there were four of us. It was only in 2021 that we grew the team to the 12 we have today. A typical day for me involves cheesemaking, business development, social media, speaking to wholesalers, account management, research and development, new product design, data analytics, forecasting, planning, that kind of stuff." 
Future Plans
Thanks to investment in better equipment, economy of scale and streamlined logistics, La Fauxmagerie has achieved its goal of making artisanal non-dairy cheese cost less. They also tweaked recipes to reduce reliance on nuts, which are expensive. However, they still want products to be more accessible and are hoping to lower prices further, aiming for £3.50 per 100g.  
For the future, the company is looking at further expansion with international distribution. While excited by the prospect of precision fermentation and plant-based casein, Charlotte Stevens says there is plenty to love about the nut cheeses that are already in the shops. "We want customers to recognise that our products stand up in terms of taste and quality against their dairy counterparts. We want to see customers routinely buying an almond or cashew cheese alongside a goat or sheep version. Now the battle is getting the price down, so that when stood next to a dairy cheese, a non-dairy one can compete on price as well."  
---
Alice Grahame
Alice Grahame is a freelance writer based in London. She's worked for the BBC, Guardian and various NGOs. She enjoys walking, allotment gardening and trying new plant-based dishes.